At one time the "Twin Beech" and the Cessna 180/185 made up 90%+ of the jump planes in America. It was the first multi-engine to be used in any numbers for skydiving in America and allowed the sport to build the first large stars on a regular basis.

The aircraft was produced between 193X and 19xx in several versions and was used by the USAAF and the USAF as the C-45. A bomber/trainer version called the AT-11 was also built with a glass nose for bombsight training. A navigator trainer called the AT-7 was also built. The AT-11 was also used for jumping since it was no different in the inside from any other C-45/Twin Beech. The Navy called it the SNB-5.

Some Twin Beech's were converted to a tri-cycle landing gear via a kit called a "Ryan Conversion". One of these was home based at Lakewood for years but I don't believe it was ever used for jumping and remained on the municipal side of the airport.

The Twin Beech had a TV career in the 50's as the plane of choice for the "SKY KING" program which lasted 5 years. The program was centered around "Sky" King and daughter Penny at the King Ranch in Arizona and all the trouble you could get into with a Beech Super 18.

Since many variations of the 18's, 7's, 11's and 45's were used in jumping we offer a short history on them all.

PI had 3 Beech 18's, N90264 (specifically an SNB-5), N7940C and N80431. They were used between 1970 and 1984. The last was 264 which when sold at auction in 1984 buzzed the old PI flight line on the way to its new owner.

Civilian Versions


Military Versions
BEECH AT-11 "KANSAN"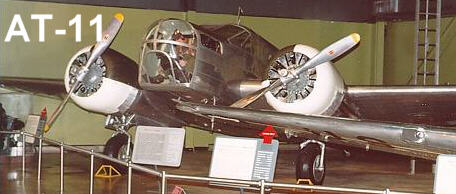 The AT-11 was the standard WW II bombing trainer; about 90 percent of the more than 45,000 AAF bombardiers trained in AT-11s. Like the C-45 transport and the AT-7 navigation trainer, the Kansan was a military version of the Beechcraft Model 18 commercial transport. Modifications included a transparent nose, a bomb bay, internal bomb racks, and provisions for flexible guns for gunnery training.

Student bombardiers normally dropped 100-lb. sand-filled practice bombs. In 1943, the AAF established a minimum proficiency standard of 22 percent hits on target for trainees. Combat training missions were flown taking continuous evasive action within a ten-mile radius of the target and final target approaches had to be straight and level and no longer than 60 seconds. After September 30, 1943, these missions were generally flown using the Norden Bombsight and the C-1 automatic pilot, the aircraft being guided by the bombardier student during the bombing run.

1,582 were ordered by the AAF between 1941 and 1945, 36 of which were modified as AT-11A navigation trainers.

SPECIFICATIONS (AT-11)
Span: 47 ft. 7 3/4 in.
Length: 34 ft. 1 7/8 in.
Height: 9 ft. 7 3/4 in.
Weight: 9,300 lbs. maximum
Engine: Two Pratt & Whitney R-985 of 450 hp. each
Original Cost: $67,000

PERFORMANCE
Maximum speed: 215 mph.
Cruising speed: 150 mph.
Range: 745 miles
Service Ceiling: 20,000 ft.
BEECH C-45H "EXPEDITOR"
The C-45 was the WW II military version of the popular Beechcraft Model 18 commercial light transport. Beech built a total of 4,526 of these aircraft for the Army Air Forces between 1939 and 1945 in four versions, the AT-7 "Navigator" navigation trainer, the AT-11 "Kansan" bombing-gunnery trainer, the C-45 "Expeditor" utility transport anf the F-2 for aerial photography and mapping. The AT-7 and AT-11 versions were well-known to WW II navigators and bombardiers, for most of these men received their training in these aircraft. Thousands of AAF pilot cadets also were given advanced training in twin-engine Beech airplanes.

During the early 1950s, Beech completely rebuilt 900 C-45s (including 432 C-45H's) for the Air Force. They received new serial numbers and were designated C-45Gs and C-45Hs, remaining in service until 1963 for administrative and light cargo duties.
SPECIFICATIONS
Span: 47 ft. 8 in.
Length: 34 ft. 2 in.
Height: 9 ft. 2 in.
Weight: 9,300 lbs. maximum
Engines: Two Pratt & Whitney R-985s of 450 hp. ea.
Original Cost: $57,838

PERFORMANCE
Maximum speed: 219 mph.
Cruising speed: 150 mph.
Range: 1,140 miles
Service Ceiling: 18,200 ft.





USAF Museum


.



Reenactment photo by Thom Lyons. The officer standing next to the plane gives you an idea of the relitive size of the Twin-Beech/C-45.